Payment gateway – Paysera Checkout
Online payment processing for e-shops
This is a convenient and popular online payment processing tool, allowing to accept payments in different countries and in different currencies – by card, e-banking, and other popular payment methods – at a good price.
Want to save even more time and money? Check out the Paysera payment initiation service (PIS).
How do I start?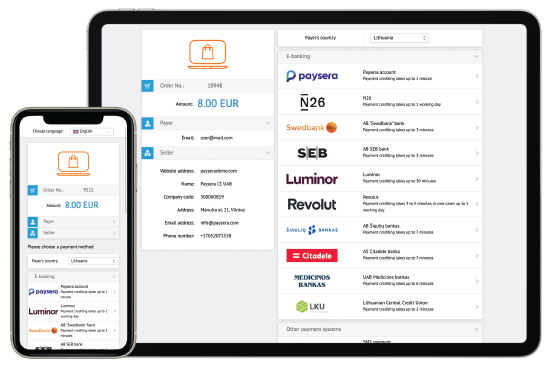 Fast and simple integration

Free
plugins
for almost 20 trading platforms (WooCommerce, Prestashop, Opencart, Magento, Shopify, Ecwid, etc.) and
detailed video instructions

Easy-to-integrate API

Easy and fast opening and management of an account via the
Paysera app
Reliable and secure

Paysera Checkout is used by 13,000+ e-shops

The Paysera payment window is familiar to buyers

Paysera has been operating in the market for 16 years and is supervised by the Bank of Lithuania
Good prices

Free private and business accounts

Transparent payment gateway
service pricing

Currency conversion
at a favourable rate for those who accept payments in other currencies than the euro
Fast support

24/7
client support in English

Support is available in 14 languages and the payment window is translated into 10+ languages

Free
consultations by Paysera IT specialists
on technical issues
Real-time payment processing

Real-time visability of buyers' payments

Notifications about executed payments

Money is refunded in a simple and secure way by logging in to your Paysera account

How to start accepting payments online?
The most popular online payment methods
Accept payments online by using the ways that are familiar, convenient, and popular with clients
Online banking
Payment initiation service (PIS)
Payment initiation service – a payment method where the buyer selects their bank (SEB, Swedbank, Šiaulių bankas, Citadele, Luminor, Revolut, N26 etc.) and often even without leaving the payment window confirms the payment for goods or services. PIS is a cheaper alternative to Bank Link.
Bank Link
A payment method where the buyer is redirected to their bank to confirm the order. This payment method is still popular, but increasingly more merchants select PIS as an alternative to Bank Link due to a better pricing.
Cards
Visa, MasterCard, Maestro credit and debit cards – one of the fastest payment methods. This payment method is widespread in the west and is becoming more popular in the Baltics and Eastern Europe in general.
Cash
Even though cash payments are becoming less popular, the older generation still frequently chooses this payment method. Make it possible for your clients to pay in cash at designated cash desks, or by making a payment order at their bank.
Individual payments
Don't have an e-shop? Do you make individual or bigger orders only a few times a year? Generate a single payment order for your buyer.
Other payment systems
If your goods or services are intended for the international market, make it possible for your buyers to pay through such systems as Trustly, Giropay, etc.

SMS
A less popular payment processing method, which is still in use, is accepting payments via mobile operators. A client sends a message to your indicated number and the amount charged to the phone account is transferred to you.
Other services and benefits
No. 1
Paysera is the largest and most popular electronic money institution (EMI) in Lithuania
EUR 11.7B
Financial transactions in 2020
13,000+
E-shop payments are collected via Paysera
EUR 600M
Collected through Paysera Checkout in 2020
Paysera Checkout – popular, fast, and convenient online payment processing
It is a universal and flexible solution for accepting online payments, which is used by thousands of successful e-shops. It does not matter whether your clients like to pay online, by card, or in cash, by collecting your payments through Paysera Checkout, you will be able to offer them various reliable payment methods and use other benefits offered by Paysera.