Use Google Pay™ with your Visa card
Add your Visa card to Google Pay straight via the Paysera mobile app. This method of adding the card is available in all supported countries, even where the Google Pay app cannot be downloaded just yet.
It is the fast, simple way to pay at millions of places – on sites, in apps, and in stores.
Use Google Pay wherever you see one of these symbols: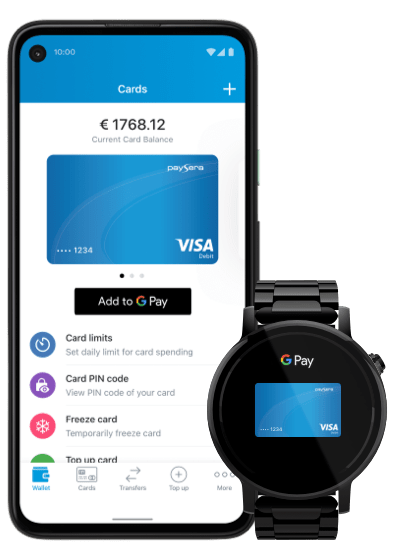 Google Pay is a trademark of Google LLC.
Instant and effortless payments

Adding the Visa card to Google Pay is easy and fast – do it straight from the Paysera App or via Google Pay itself.

Pay as quickly as you click. Unleash contactless payments for your Android phone – wake it up and hold it near the reader until you see a tick.

When using Google Pay, an encrypted virtual account number is used to represent your info – so your real card details stay safe.
How to add the Visa card to Google Pay?
Adding your Visa card to Google Pay takes just a few moments. You can do it via the Google Pay app, or straight from the Paysera app.
Via Paysera app:
Open the Paysera app, go to Cards, and tap on the "Add to Google Pay" button.
If you do not have the Paysera application on your Android phone yet, download it for free from Google Play.

ℹ️ This method of adding your card is also available in countries that are supported by Google Pay but don't have the Google Pay app available for download yet.
Via Google Pay app:
If you already have the Google Pay app or you can download it from Google Play – open the app, choose to add a new payment method, enter your Visa card details, and follow the in-app instructions.
Prefer to do things on desktop? Get set up at pay.google.com.
Frequently asked questions