Features
Does a Visa card support Google Pay and Samsung Pay?
In November 2020, Google Pay expanded its list of supported countries to Lithuania, Latvia, Bulgaria, Romania, and many others. As for Samsung Pay – no news just yet. In spite of that, many clients of Paysera have been using Google Pay and Samsung Pay for over a year now. So where does Google Pay actually work? How can you add your card? And how are mobile payments shaping our habits?
Google Pay expands to new countries
On November 17 Google Pay expanded their list of supported countries to Lithuania, Latvia, Estonia, Romania, Bulgaria, the Netherlands, Greece, Hungary, Austria, and Portugal.
However, already in autumn of 2019 the Visa payment card provider Contis, a UK company, completed the integration with Google Pay, enabling Visa cardholders to add their cards to this popular mobile payment app for Android phones.
Yet, in some countries you can't download the Google Pay app from the Play Store until the country becomes officially supported by Google Pay. Lithuania and the countries listed above are already on that list, but users will need to wait some more for the app to show up on the official download page.
Despite these difficulties, Paysera app users in almost any country can now add the Visa card to Google Pay even without downloading the Google Pay app itself – straight from within the Paysera app. This integration was completed in 2021, and since then Visa cardholders who use Android devices can enjoy contactless mobile payments in millions of places all over the world.
Paysera clients in France, Germany, Ukraine, the United Kingdom, and many other countries can download the Google Pay app and also successfully add their Visa card to it.
Visa and Samsung Pay
Meanwhile, Samsung Pay for now supports only a few countries in Europe and on other continents. Visa cardholders in France, Spain, UK, Russia, and other countries from the list can already add their payment cards to the Samsung Pay app.
In other countries Samsung Pay is not accessible unless the user's phone is purchased in one of the supported countries and the app is already there. In this case, even people in Lithuania or Latvia can add their Visa card to Samsung Pay.
Mobile payments – what are they?
Mobile payments allow you to pay for goods or services by simply holding your smart device (phone or watch) over the card reader.
It's just like paying with your contactless payment card, only you wave not a card over the reader, but an electronic device. However, for the process to work with your payment card, the card has to be supported by the app. For example, Paysera has completed the integration with Samsung Pay, Google Pay, and Apple Pay; therefore, you can add your Visa payment card to almost any device and pay simply by using nothing but your phone.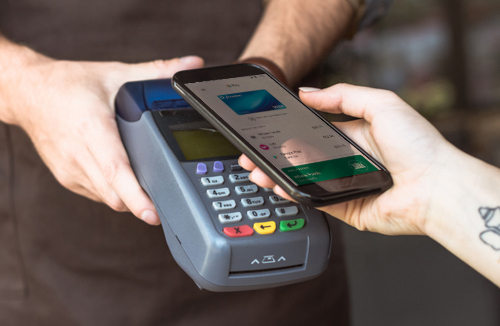 In order to pay with your smartphone (which must have the NFC, Near Field Communication, feature), download the Google Pay app, register, and add the card. Or you can also add the card via the Paysera app itself.
In this blog post we will not go on about which mobile payment app is better – you can already find many reviews of this kind (for example, CNET). What we can say is that these sorts of seamless mobile payments will soon take over the world. Almost 80 per cent of Europeans already effortlessly use online banking, many have at least once tried mobile payments. This progress will be accelerated even more with the nationwide quarantines and the world going digital.